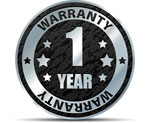 With our low prices, we help Schools, Universities, Y's, and other organizations buy up to 30% more equipment with their current budget compared to some of our competitors. While this makes us very popular, you won't sacrafice to achieve those savings.
Since 1994, we've earned a reputation for fast delivery and high quality products that we warrant for 1-full-year.
So why overpay for the quipment you need? Instead, shop Great Lakes Sports where your budget buys more and you won't sacrifice to save!
Thomas McNutt
President, Great Lakes Sports.
Founded in 1994